Cosmo is an award-winning, interactive therapy and inclusive training system designed to help train motor skills, turn-taking, communication and more.
Read More
Cosmo is an award-winning, interactive therapy and inclusive training system designed to help train motor skills, turn-taking, communication and more.
---
Overview
Cosmo is made up of two parts: a set of light-up, multi-colour Bluetooth switches, and an iPad App featuring highly-motivating and intuitive activities designed by teachers and occupational, physical and speech & language therapists.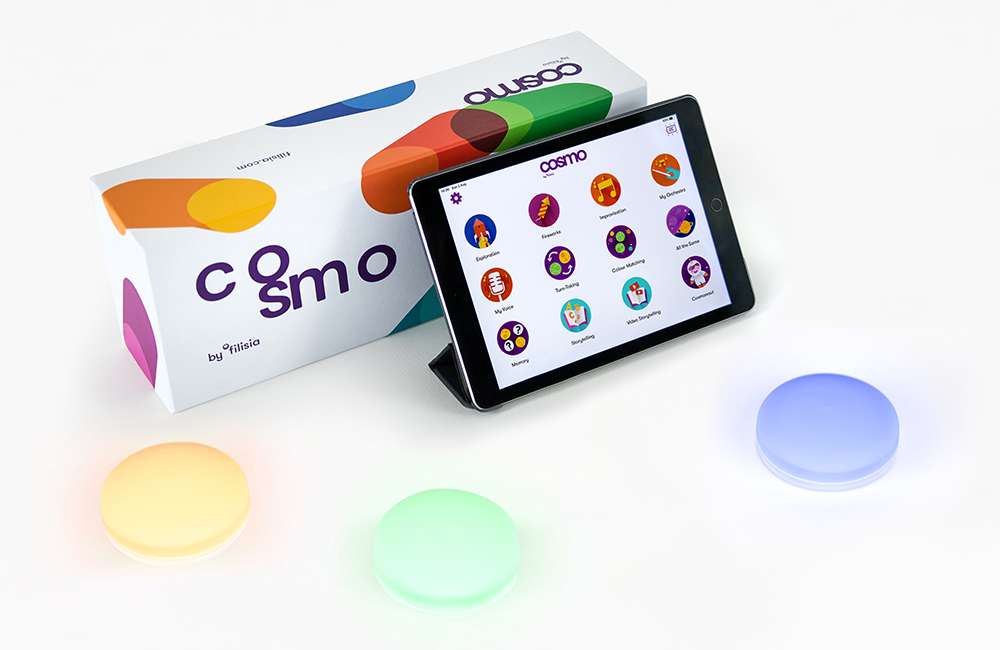 Versatile
With data-driven game play Cosmo can be used in a group setting or whole classroom, in an individual therapy session or at home with parents and carers.
Development
Cosmo is ideal for early years learners and people with special educational and therapy needs, and can be used to support the development of:
Joint Attention
Turn Taking
Choice Making
Collaboration
Motor Skills
Language

Sequencing
Waiting
Transitions
Storytelling
Executive Function
Sensory Awareness
Activities
Cosmo Training App consists of a set of interactive activities that motivate learners to develop motor, cognitive and communication skills through play and music. Cosmo's multi-sensory games work towards achieving skill based, functional and national curriculum compatible goals.
For full details about each activity, who they are designed for and skill areas click the following link to learn more about Cosmo Activities.
Exploration
Fireworks
Toggle
While it's Green
Tap Dash
All different
MyVoice

Turn Taking
All the same
Copy Me
StoryTelling
Video StoryTelling
Flappy Cosmonaut
Exercise
Cosmo App
Download the free Cosmo App from the App Store onto your iPad and you're ready to go.
Responsive
The Cosmo Switch is highly responsive, making it very easy to activate regardless of your motor abilities. The switch lights up in a variety of colours, making it very engaging and providing visual feedback with every press.
Switch Access
Each Cosmo Switch is compatible with all Bluetooth LE devices (or newer) and provides access to all switch accessible apps or software on iOS, OS X, Chromebooks, Windows and Android devices.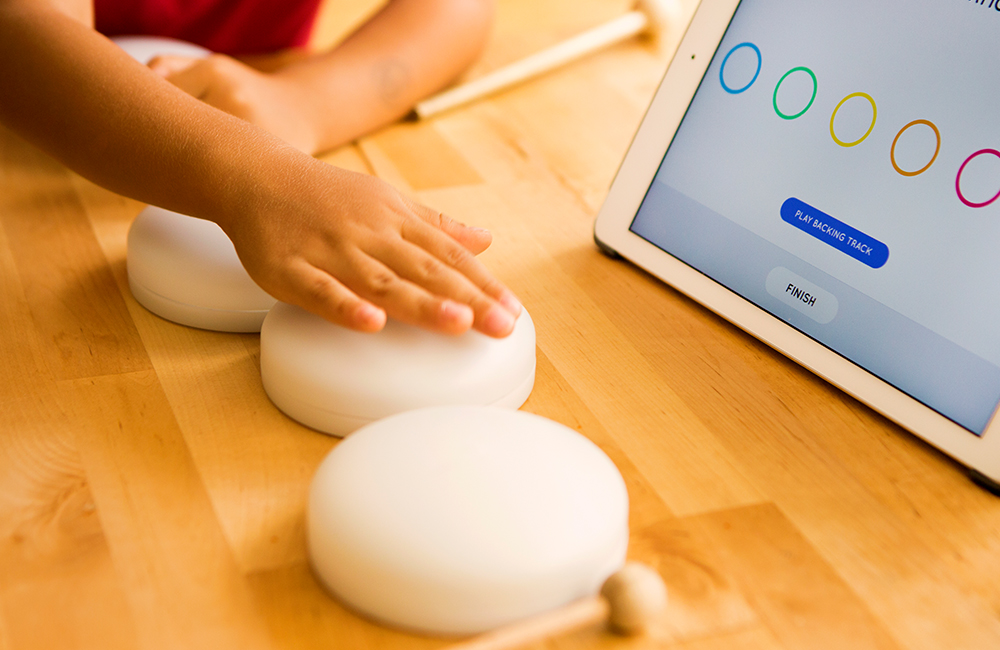 "There are not enough superlatives that would do Cosmo justice. Never before have I reviewed an app that has the potential to be used by all members of our school multidisciplinary team which include; Occupational therapists, Speech Therapists, Art/Dance and movement therapists as well as our teaching teams."
EDUCATIONAL APPSTORE
"Cosmo Provides an Innovative Resource that is simple to use, yet has layers of complexity. It has a wide range of uses, is well designed and has a strong element of fun"
BETT AWARDS COMMITTEE
"Cosmo is fantastic! Everyone I talk to can't say enough positive things about it. It's really helping the students to develop their turn taking skills, to work together, and to have the opportunity to give directions to the rest of the class."
Meighan Curran, SEN Teacher, Cricket Green School, London
"Cosmo is really versatile and can support personalised learning targets. Teachers have seen the participation levels of the groups improve, and certainly the interaction with group activities have increased as well."
Ed Pitcher, Head of Technology, Swiss Cottage School
"It's a fabulous resource to help maintain and improve their concentration for longer periods of time. The students love the lights, the sounds and the sensory approach to the activities."
Lisa Cull, SEN Teacher, Treloar School
"The lesson plan section contains a variety of plans, smartly dived into sections relating to the skill you want to work on. [It takes] hours of prep work away from teachers."
Ciaran, W. HeadTeacher, SEN school, UK
Case Studies
Cosmo provides a wealth of opportunity. Don't believe us? Download Cosmo Case Studies.
Evidence-Based
An independent research study has been specifically conducted on Cosmo, yielding positive results in the areas of attention, engagement, emotional expression and social communication of children with autism.
What's Included
Three Cosmo switches
14 Cosmo iPad activities
Charger, charging cables and adaptors
Cosmo app as a free download from the App Store
2 year limited warranty