Product Code (SKU)
Eye Can Fly
The world's first magical flying adventure designed especially for eye gaze devices. Let Aimee guide you through 24 unique and exciting missions.
Please note: Eye Can Fly software is downloadable software delivered via email within 2-3 days of receipt of order.
Read More
---
Eye Gaze Skills
Master control of your aircraft to become a fully-fledged pilot whilst learning Geography skills such as compass directions, landmarks and regions across the world as well enhancing your eye gaze skills. In addition to eye gaze, play can also be controlled with any mouse pointer device, the keyboard, switches and joysticks.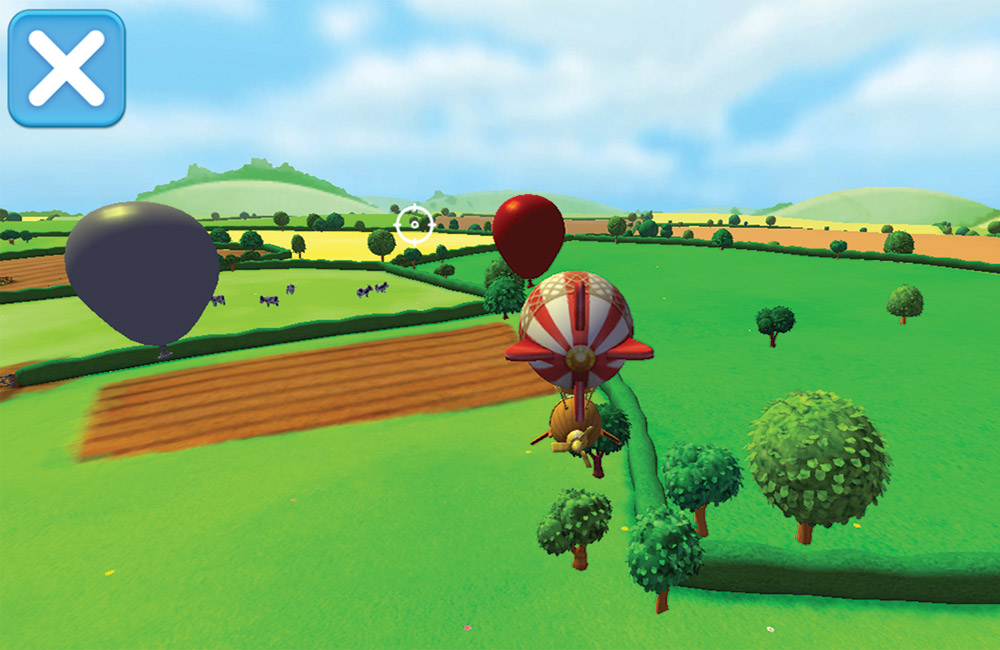 Balloon Pop!
Start simply. Pop Balloons as you fly. Just look at the balloon to pop it whilst your plane flies in autopilot. What's your high score?
Flight School
Then let Aimee guide you through twenty four exciting missions to become a fully fledged pilot whilst learning Geography skills such as compass directions, landmarks and regions across the world.
Free Flight
You might want to just explore as you please in Free Flight. Check out the Farm, Island or World with or without a plane, choosing simple left/right control or multidirectional for advanced pilots.
Mini Games
Team up with the chicken to collect coins and pile up points. Race Aimee and explore the island on foot, uncovering hidden surprises. Your eye gaze adventure starts here.
---
Accessible
Designed for students with some experience of eye gaze control and ability to follow simple verbal instructions, this package is easy to set up and takes the students through carefully graded activities to learn how to use eye gaze with precision and control. Useful options and a range of activities at different levels ensure success and maintain motivation for students of different ages and abilities.
---
Testimonials
Compared to other "special needs" software Eye Can Fly stands out in appearance, characterization, soundtrack and challenge, making it appealing to a variety of ages and abilities. This is a game package that the whole family would want to experience, not just the disabled player.
Sean Carroll – ICT/AT Consultant
Eye Can Fly is a much needed addition to the EyeGaze repertoire. The graphics and interface are clear and well designed. The activities are purposeful and fun. My students have adapted to them very quickly and there are many options for them to explore in the future. I have particularly enjoyed seeing my least independent students experiencing what it's like (well nearly) to be as free as a bird!
Andrew Walker – AAC/ICT Coordinator
---
What's Included
Technical Support
Compatible with: Windows: 7 / 8 / 10 / 11
Eye Can Fly is now delivered by download (with an activation key).
MSI installer is available for site licence customers.
An active internet connection required for installation/activation.
Documentation & Downloads
FAQs / Troubleshooting