All in One EyeGaze Education: Skyle for Windows
Product Code (SKU)
All in One EyeGaze Education: Skyle for Windows
All in One EyeGaze Education: Skyle for Windows is designed to offer an affordable package to meet the requirements of the special needs classroom. It provides all you need to get started using eye gaze as an access, assessment & teaching tool in your classroom or therapy setting, including all three of our Inclusive EyeGaze Learning Curve software titles.
Read More
All in One EyeGaze Education including the Skyle for Windows Eye Tracker and Inclusive Learning Curve software provides an extensive range of eye gaze activities designed to address a progression of skills; from early Sensory and Tracking, through Cause and Effect and Exploring to Communication and Learning.
With engaging graphics, animations and sounds and fun feedback and rewards, Inclusive All in One EyeGaze Education is a hit with students and staff alike.
You can now buy this fantastic bundle with a robust stand and a Touch Monitor.
Mounting System
A specifically designed mounting system that is strong, flexible, robust and portable to meet all your positioning needs.
The mounting system gives you the most flexible positioning available, with easy adjust engineering for height and angles, you can use eye gaze standing, sitting or lying down.
Quality castors ensure that the whole system can be easily moved from room to room. Max height: 120cm, Max weight: 6-13kg.
Please note: base width is 110cm, the maximum height achievable for this stand is 120cm. If you require a mounting system which offers a higher height, please contact us to request a quotation for separate items.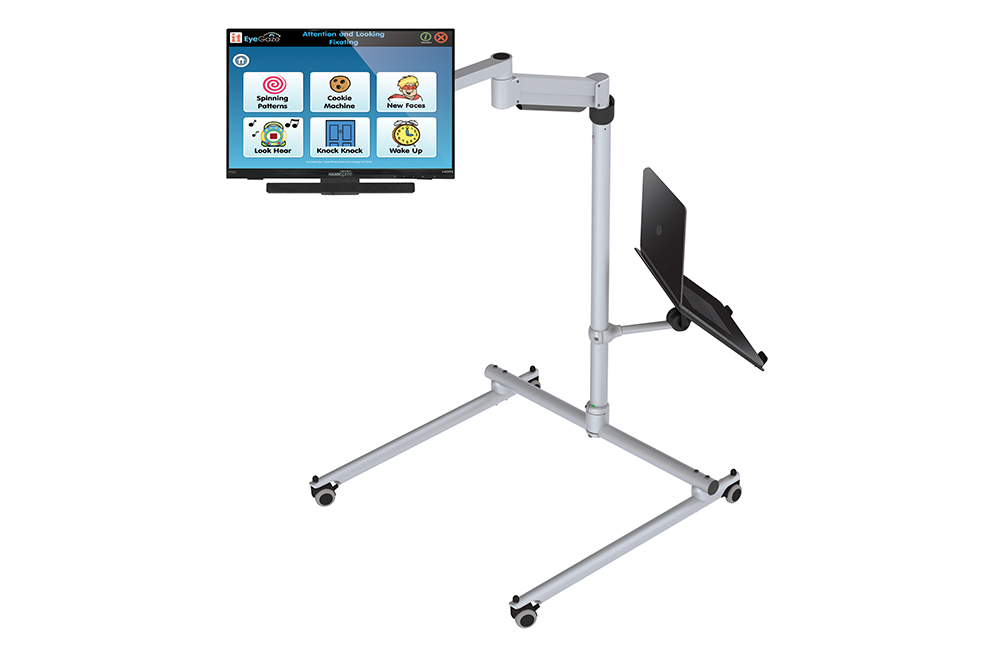 Skyle for Windows Eye Tracker
The Skyle for Windows Eye Tracker, a state-of-the-art access device that tracks where your eyes are looking and turns that into computer access!
Works with any assistive and mouse driven software.
Works with most lighting conditions.
Small and portable - easily transported between computers at home or school.
Can be used across any Windows devices with 10" - 24" screens.
Skyle EyeMouse Software
Designed for the needs of 'independent' users as well as 'supported' users and their teachers and parents:
Intuitive video or guided positioning.
Individual profile settings for different users and devices – ideal for classroom & assessment.
Mouse-over-gaze precedence provides control and convenience to teachers.
Easy on-screen 'Access Button' and 'Gaze-at-Camera' for various levels of independence and abilities.
Rich calibration and customisation to cater for specific individual needs and interests.
Mouse and configuration menu are fully gaze accessible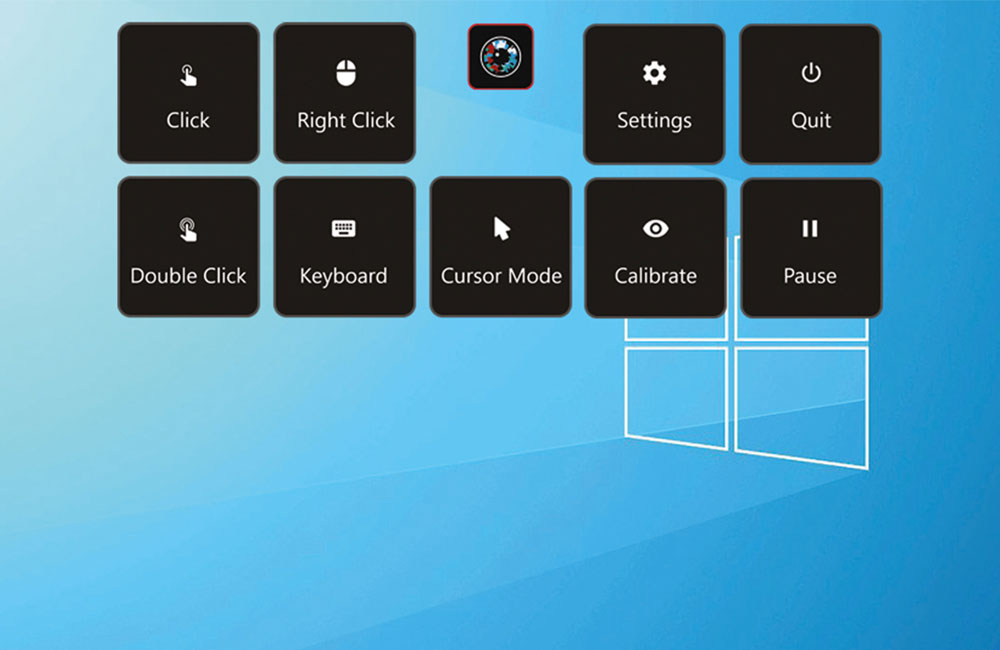 All in One Touch PC or Touch Monitor
A convenient and versatile All in One Touch PC to play all your favourite software with a great screen size for eye gazing, combining performance and robustness with a modern and compact design, the All in One PC is a desktop computer with touch screen supplied with Windows 11 Pro.
Or choose a robust 21.5" Touch Monitor to use with your own laptop placed safely on the specially designed laptop shelf on the mounting system. With high definition and fast touch response including multi-touch the 21.5" Touch Monitor gives the quick and accurate response needed for pupils with special needs.
* Please note that the make and model of the PC may vary from that displayed in the content of this page.
Attention and Looking
A unique software package that can help you assess, teach and stimulate early eye gaze and looking skills. Suitable for all students on their first steps with eye gaze and appropriate for users with additional needs.
These 18 fun and meaningful are carefully graded and designed to assess and teach attention and looking skills, simple access skills and understanding of eye gaze.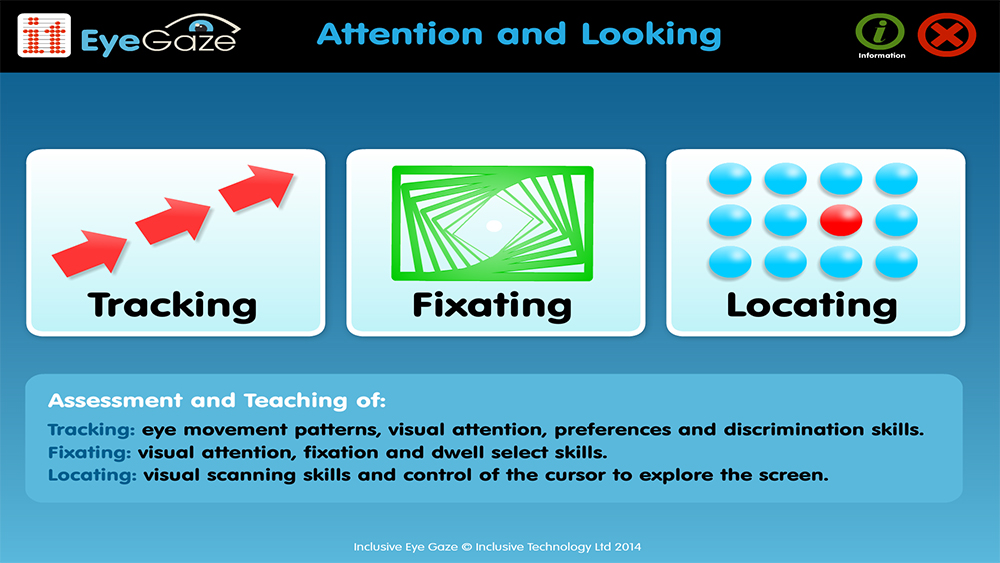 Exploring and Playing
18 fun packed games and exploring opportunities to play on your own and with friends.
Assess and improve your targeting and access skills and progress from cause and effect to early choice making.
Learn to take turns or do just what you want. You can even make your own music machine!
Choosing and Learning
18 activities designed to prepare eye gaze users for further communication and learning activities by developing choice making and access skills.
Add your own pictures and sounds to extend the 18 activities to your specific communication and curriculum needs.
All activities have a cognitive or decision making element to choosing with multiple targets.
Warranty - Touch PC
We, Inclusive Technology Ltd, can supply the Touch PC to customers in the UK and Ireland only, where this product has a 28 day returns policy. To purchase the Touch PC in all other countries please contact your local reseller.
Please note: this product has a 12 month warranty.
Please note:
Software titles are downloadable and delivered via email within 2-3 days of ordering.
The laptop shelf comes supplied with the All in One EyeGaze Education Touch Monitor option only (laptop not included).
Delivery charge is £17.00 per bundle.
Documentation & Downloads
FAQs / Troubleshooting
Warranty
The computer, monitor and Skyle eye tracker supplied in this package are all covered by a one year manufacturer's warranty. If any issues arise during this time, please contact 

[email protected]

.