Surface Pro EyeGaze Education: Skyle for Windows
This bundle offers an affordable tablet and eye gaze solution that is portable, robust and easy to use. The Surface Pro EyeGaze Education: Skyle for Windows bundle provides all you need to get started with eye gaze in the special education classroom or at home.
Read More
The Surface Pro EyeGaze Education bundle has been specifically created to suit your individual learners needs. It provides the best value, mobile and readymade solution to help your learner's progress from early eye gaze access skills on to independent communication.
What's Included?
The Surface Pro EyeGaze Education bundle includes:
Microsoft Surface Pro Tablet
A Skyle for Windows Eye Tracker (+ Skyle EyeMouse Software).
A robust and portable mounting solution.
Our award winning Inclusive Learning Curve software
Microsoft Surface Pro Tablet
The Surface Pro has a high-contrast, low-glare 13" HD screen, perfect for use with eye gaze. It delivers speed and performance thanks to a powerful Intel Core i5 dual core processor, 8GB RAM and 256GB SSD storage. Windows 11 Pro is pre-installed and the battery can last up to 9 hours.
Skyle for Windows Eye Tracker
The Skyle for Windows Eye Tracker, a state-of-the-art access device that tracks where your eyes are looking and turns that into computer access!
Works with any assistive and mouse driven software.
Works with most lighting conditions.
Small and portable - easily transported between computers at home or school.
Can be used across any Windows devices with 10" - 24" screens.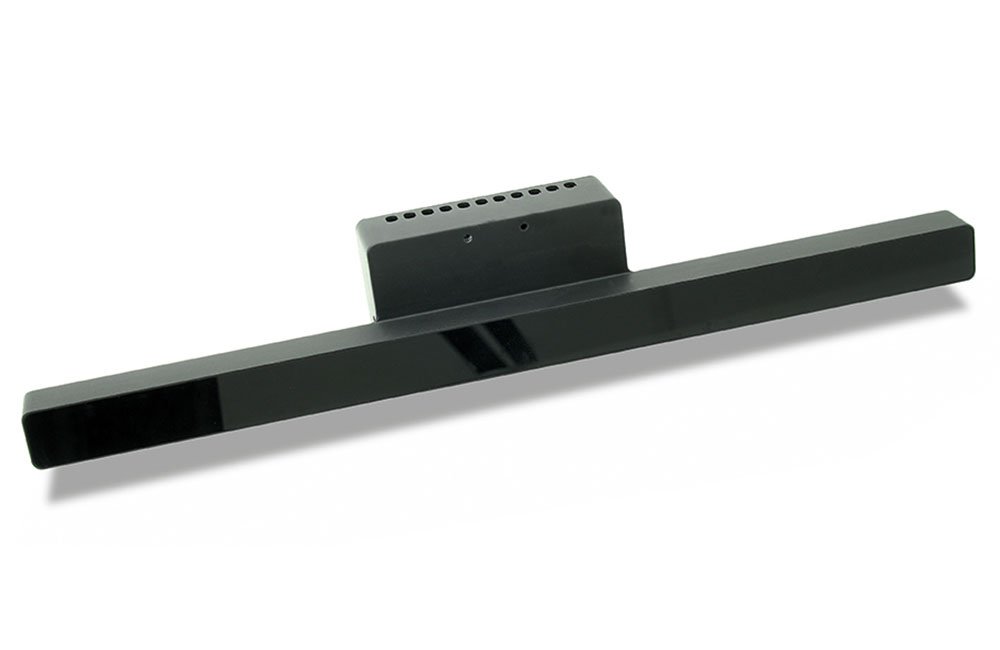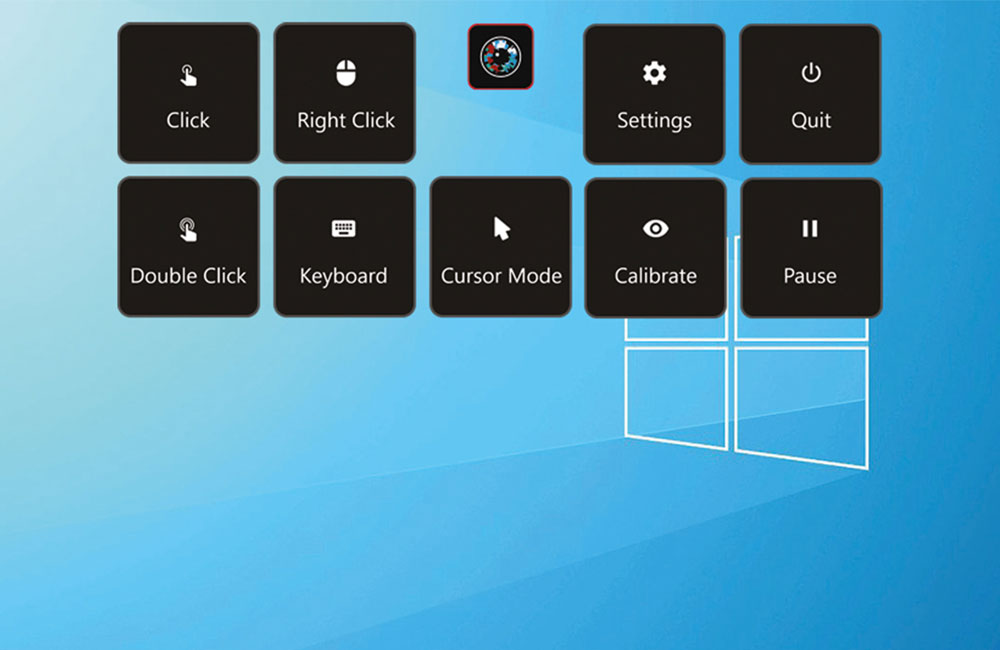 Skyle EyeMouse Software
Designed for the needs of 'independent' users as well as 'supported' users and their teachers and parents:
Intuitive video or guided positioning.
Individual profile settings for different users and devices – ideal for classroom & assessment.
Mouse-over-gaze precedence provides control and convenience to teachers.
Easy on-screen 'Access Button' and 'Gaze-at-Camera' for various levels of independence and abilities.
Rich calibration and customisation to cater for specific individual needs and interests.
Mouse and configuration menu are fully gaze accessible.
Inclusive Mounting Solutions
The bundle comes supplied with a pre-configured triple mounting solution offering a portable and sturdy setup. It comes with simple Quick Release adjustment, super clamp and an eye gaze mounting bracket.
650mm triple tube (2 x 250mm and 1 x 150mm) mounting arm
It is a versatile mounting system that can be customised to meet individual needs and environments that attaches easily to tables and wheelchairs.
Inclusive Eye Gaze Learning Curve Software
These popular eye gaze software titles include 54 activities and are supplied pre-installed on the Microsoft Surface Pro. This collection takes users on the learning curve from assessment and cause and effect understanding through to using eye gaze for communication, learning and leisure.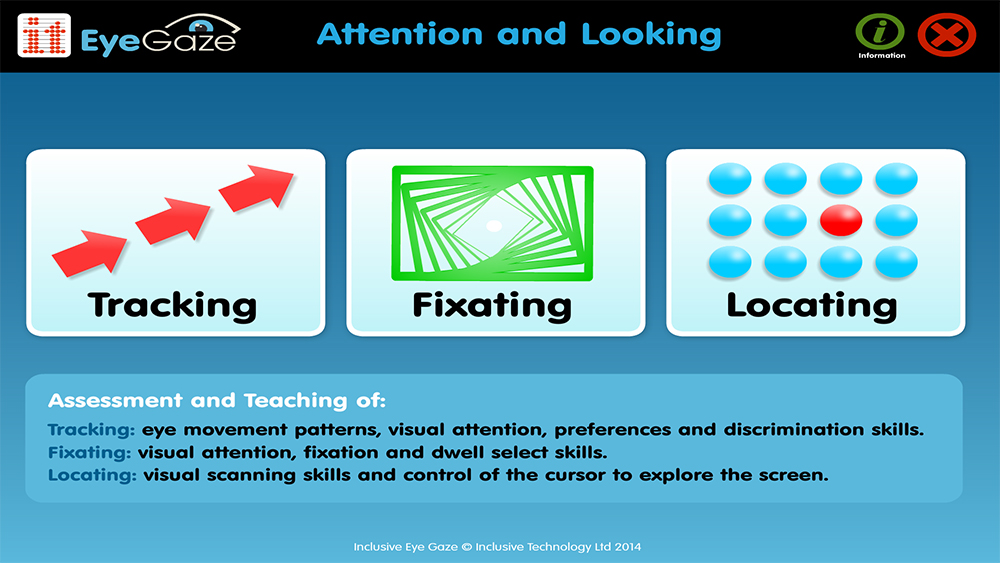 Attention and Looking
This unique program can help you assess, teach and stimulate early eye gaze and looking skills. Suitable for all students on their first steps with eye gaze and appropriate for users with additional needs. These 18 fun and meaningful activities are carefully graded and designed to assess and teach attention and looking skills and simple access skills, ensuring early success and effective teaching.
Exploring and Playing
With 18 fun packed games and exploring opportunities your learner can play on their own or with friends. Assess and improve their targeting and access skills and progress them from cause and effect to early choice making.
Choosing and Learning
Prepare eye gaze users for further communication and learning activities by developing choice making and access skills. With the option to personalise the activities, add your own pictures and sounds to extend the 18 activities for your learners communication and curriculum needs.
Eye Gaze Software
The Surface Pro tablet comes with Windows 10 Pro pre-installed offering the ability to use and install your own software, including titles such as:
Insight - Assessment and teaching system of early vision and cognition behaviours
Grid 3 - The complete AAC software package
Eye Can Fly and more
Microsoft Surface Pro - Technical Specification
Intel Core i5 dual core processor
2GHz processor speed
8GB RAM
256GB SSD storage
Microsoft Windows 11 Pro
13" screen with HD display
Resolution: 2880 x 1920 pixels
Micro SD media card reader
2 x USB-C with USB 4.0 / Thunderbolt 4, 3.5mm headphone jack, 1 x Surface Connect Port
Bluetooth enabled, HD webcam, built-in microphone & Dolby sound system
Warranty
Inclusive Technology supply The Surface Pro EyeGaze Education bundle to customers in the UK and Ireland only, where this product has a 28 day returns policy. Supplied with a 12 month warranty, standard warranty and support is provided by Microsoft for the Surface Pro.
Documentation & Downloads