Product Code (SKU)
REHAdapter for iPad
The REHAdapter is a new iPad case that transforms a standard iPad into a fully-fledged AAC device in one single housing. It's ready for every AAC task – whenever you need it and is designed for all-day communication while at home, at school or travelling.
Read More
---
Ready for every AAC task – whenever you need it.
The REHAdapter seamlessly transforms an iPad into a dedicated AAC device. It has everything you would expect from the top performing AAC devices on the market: clear and loud sound, connections for eye trackers, keyguards, switches, a kickstand for quick positioning, maximum portability, and a built-in universal device connector for REHAdapt mounting systems. And all this comes within one protective enclosure.
Combined with the iPad's range of Apps, the REHAdapter offers endless possibilities for AAC users. It is the only case on the market to offer this level of flexibility, technology, and ease of use.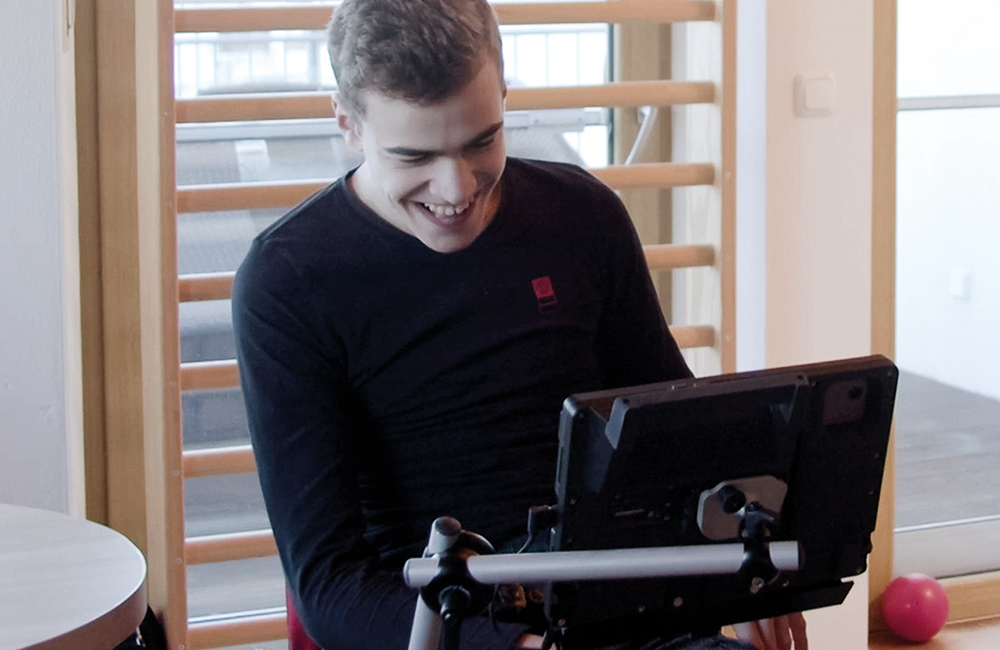 Features
The REHAdapter is a protective case designed for extensive daily usage. It has a sturdy design and is made of reinforced plastic, delivering ample protection. The iPad is surrounded by rubber bumpers that absorb impacts from all sides.
The magnetic charging cable ensures not only self-alignment when connecting, but also makes sure the REHAdapter cannot be pulled or dragged by its cable.
All in all it's a trusty companion which meets all the requirements for a medical product and is scratch, shock and drop resistant.
---
High-quality sound is achieved by one large integrated speaker located on the back of the unit. With its voice-optimised loud and clear sound the REHAdapter is classroom-ready.
The rubberised volume buttons are always accessible and the angle of the speaker has been optimised for maximum performance in all positions: whether the REHAdapter is flat on a table, upright, or held by a REHAdapt mounting system.
---
The battery lasts twice as long as the iPad. This means you can use it without having to worry about it throughout the day.
Includes an integrated kickstand offering continuous adjustment up to an inclination angle of 45°. When lying flat on the table the wedge shape allows for an ergonomic 10° angle access. The kickstand and all contact points are rubberized. The kickstand is made of aircraft-grade aluminium and can be removed if not needed.
The REHAdapter features a sophisticated shoulder strap system that will never become twisted. The REHAdapter can also lie flat on a surface without wobbling even when the strap is attached. The handle is wide and rubberized for comfortable grip. That makes it easy to carry the REHAdapter around or to stow it into a bag.
Accessibility
Keyguards: optional innovative keyguards made from 5mm thick plexiglass can be clicked into place without the need for any additional holder or Velcro. This unique system can be set to three different levels of pressure to better fit the client's needs: easy toolless, semi-permanent, or permanent (requiring tools for removal). Please note: available to purchase seperately.
Two Switch Access: includes integrated 3.5 mm jacks to connect up to two switches for screen scanning.
Eye Trackers, Head Mice & More: features two attachment points for additional access equipment such as eye trackers or head mice. The attachment points - located at the top and bottom of the device - offer unlimited flexibility for attaching additional equipment.
---
Specifications
Standard version fits the iPad 10.2 (7th, 8th or 9th Gen).
Pro version fits the iPad Pro 11 (1st, 2nd and 3rd Gen) and Air (4th and 5th Gen).
Supplied with a universal device socket (UDS) connection for easy REHAdapt mounting.
Includes an international power adapter (UK, EU & US).
You can view these videos Introducing the new Rehadapter™ and Unboxing & Setup of the Rehadapter™ for more information.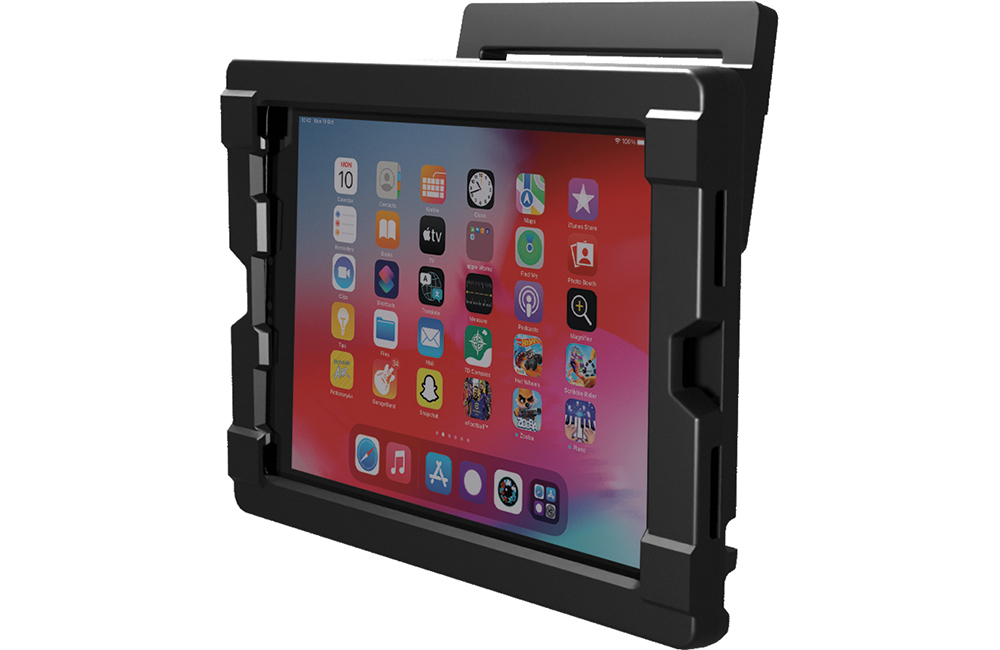 ---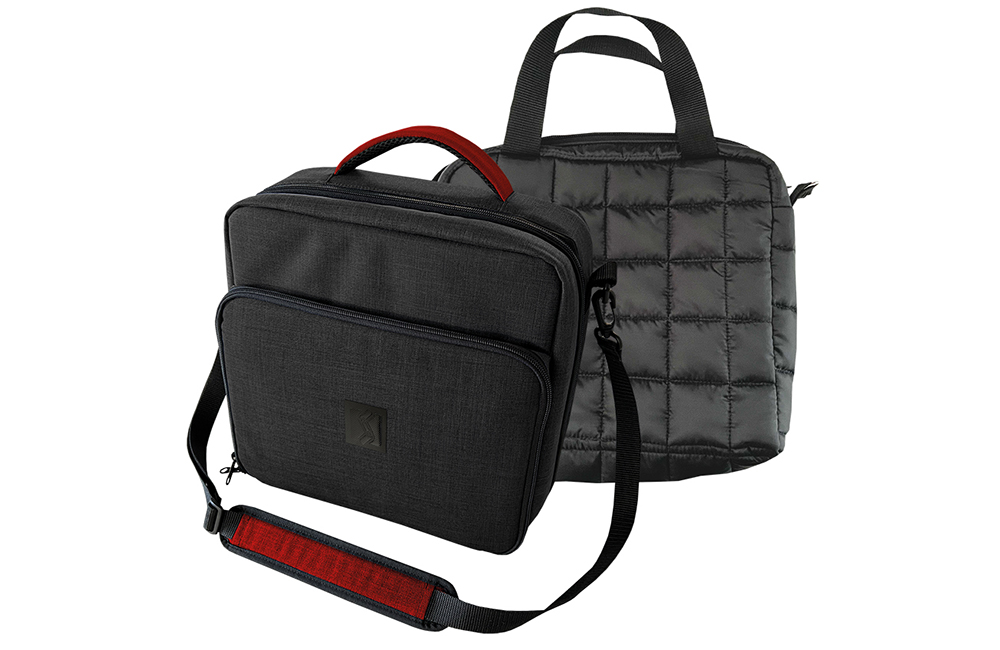 Accessories
Transportation Bag that includes pockets and compartments for cables, power adapters, keyguards and other accessories. Features heavy duty handles and zippers and an adjustable shoulder strap.
Simple Protection Sleeve which features a handle, a shoulder strap and a pocket for its charging cable.
Adjustable Shoulder Strap that can be easily attached and detached using the quick-release fasteners.
A standard Keyguard made from plexiglass 5mm thick. Milled instead of lasered to make sure the edges are smooth and comfortable for the user.
Please note: all accessories are available to purchase seperately.